Productive qualities of sows and their posterity depending on the duration of the suspension period
Keywords:
sow, piglet, gain, fertility, viability, feed efficiency, use rate
Abstract
The Article examined the dependence of reproductive, feeding, slaughtering properties and physical and chemical indicators of meat on duration of sucking period in pigs of modern intensive genotypes. It was found that shortening of lactation period from 28 to 21 days resulted in decrease of total number of piglets born by 6.28%, fertility by 7.33%, piglets' litter weight at birth by 5.49%, average weight of one piglet by 23 34%, litter weight during this period by 17.70%, absolute by 28.57% and relative by 11.08 gains, and the increase by 1.49% of fertility, by 6.34% the viability by 7.34% of the number of piglets when weaned, by 2.21% of their daily average gains in the feeding period and 6.25% of the complex index of reproductive qualities. At the same time reduction of lactation period of sows by 7 days increased the use rate of sow by 5.35% which additionally allowed to get from it by 13.95% more business piglets, by 25% use the farrowing crate more intensively, decrease by 27.25% annual costs of animal feed and additionally to receive UAH 1,331 of cash during this period. At early weaning, the piglets had by 2.90% - 11.35% lower growth rate, a by 0.83% worse viability rate, and by 0.03 kg increase in feed efficiency at the time of their nursing and feeding. There is no dependence of slaughtering properties, content of meat, lard and bones in carcasses and physical and chemical properties of meat on duration of sucking period. Their dependence on pre-slaughter body weight was found.
References
1. Antonenko, P.P., Svezhicev, A.N., Masljak, D.N., 2009. Normirovanoe kormlenie svinej [Normalized Feeding Pigs]. D. Art-Press, p. 360.
2. Bankovska, I.B., 2014. Ekspres-otsinka dozrivannia miaziv u tushakh svynei. [Rapid evaluation of muscle maturation in pig carcasses]. Prodovolchi resursy: problemy i perspektyvy, pp. 188–191.
3. Bankovska, I.B., 2005. Modyfikatsiia metodu vyznachennia volohoutrymuiuchoi zdatnosti miasa. [Modification of the method for determining water-retaining capacity of the meat]. Suchasni metodyky doslidzhen u svynarstvi. Poltava, pp. 156–157.
4. Berezovskij, N.D., Pochernjaev, F.K. and Korotkov, V.A., 1986. Metodika modelirovanija indeksov dlja ispol'zovanija ih v selekcii svinej [Method of modeling indices for use in breeding pigs]. Metody uluchshenija processov selekcii, razvedenija i vosproizvodstva svinej (metodicheskie ukazanija). pp. 3–14.
5. Vlizlo, V.V., 2012. Laboratorni metody doslidzhen u biolohii, tvarynnytstvi ta veterynarnii medytsyni, [Laboratory Research Methods in Biology, Livestock and Veterinary Medicine: A Handbook]. dovidnyk. V.V. Vlizlo, p. 767.
6. Vynohradskyi A.I., 1975. Rannie vidluchennia porosiat [Early weaning of piglets]. Kiev. Urozhai, p. 64.
7. Vovk, S.O., Kruzhel, B.B. and Balkovskyi, V.V., 2006. Kozhnomu svoia yakist. Porivnialna kharakterystyka torhovo-rynkovoi otsinky yakosti tush svynei u krainakh Yevrosoiuzu y Ukrainy [Each has its own quality. Comparative characteristics of trade and market assessment of the quality of pig carcasses in EU countries and Ukraine]. Miasnoi byznes, issue 2, pp. 46–47.
8. Voloshchuk, V.M., 2012. Osoblyvosti selektsiino-tekhnolohichnykh rishen ta orhanizatsiinykh form u suchasnomu svynarstvi [Features of breeding-technological solutions and organizational forms in modern pig breeding]. Svynarstvo, issue 61, pp. 3–8.
9. Hryshchenko, N.P., 2017. Rozvytok svynarstva v Ukraini [Development of pig breeding in Ukraine]. Tvarynnytstvo ta tekhnolohii kharchovykh produktiv, issue 271, pp. 16–23.
10. Demidenko, I.S. and Pohodnja, G.S., 2005. Vlijanie razlichnyh srokov otema porosjat na ih rost, sohrannost' i vosproizvoditel'nye funkcii svinomatok [The effect of different weaning periods on pigs' growth, conservation and reproductive function]. Mat. mizhd studen nauk. konf. Belgorod, p. 98.
11. Zhyrnykov, N.Y., 2008. Vlyianye razlychnikh srokov otjema porosiat na reproduktyvnie kachestva matok, rost y razvytye pryploda [The effect of different weaning periods on the reproductive quality of the uterus, growth and development of the offspring]. Yzvestyia Orenburhskoho hosudarstvennoho ahrarnoho unyversyteta, issue 1 (17), pp. 84–86.
12. Zajas, J.F., 1981. Kachestvo mjasa i mjasoproduktov [The quality of meat and meat products]. Moskva: Legkaja i pishhevaja promyshlennost, p. 480.
13. ZIvankin, A.N., and Guznecova T.G., 2005. Sovremennye metody ocenki kachestva i bezopasnosti syr'ja i mjasoproduktov [Modern methods for assessing the quality and safety of raw materials and meat products]. Vse o mjase, issue 4, pp. 26–30.
14. Ivanova, N.V., 2018. Rannij ot'em porosjat i intensivnost' ispol'zuvanija matok [Early weaning and intensity of use of queens]. Sbornik III Vserossijskoj (nacional'noj) nauchnoj konferencii. Novosibirsk, pp. 352–353.
15. Kaniuka, O.Y., 2012. Riven fizyko-khimichnykh pokaznykiv miasa svynei velykoi biloi porody za ostanni 40 rokiv [The level of physico-chemical parameters of pig meat of large white breed over the last 40 years]. Svynarstvo: mizhv. temat. nauk. zbirnyk. Poltava, issue 60, pp. 137–141.
16. Krishtafovich, V.I., 2007. Potrebitel'skie svojstva mjasa s otklonenijami v processe avtoliza [Consumer properties of meat with deviations in the process of autolysis]. Mjasnaja industrija, issue 5, pp. 30–34.
17. Kuzmenko, M.V., 2012. Efektyvnist vidhodivli molodniaku svynei za riznoi pochatkovoi masy [Effectiveness of fattening pigs young at different starting weight]. Visnyk ahrarnoi nauky, issue 12, pp. 77-78.
18. Lenina, V.I., 1983. Povyshenie jeffektivnosti ispol'zovanija matochnogo stada svinej [Improving the efficiency of use of the uterine herd of pigs]. Vsesojuzn. akad. s.-h. nauk im. V. I. Lenina. M.: Kolos, p. 179.
19. State Committee for Technical Regulation and Consumer Policy, 2001. DSTU ISO 2917:2001 Meat and meat products. Determination of pH (control method). Kyiv: State Committee of Ukraine for Technical Regulation and Consumer Policy.
20. State Committee for Technical Regulation and Consumer Policy, 2010. DSTU 7158:2010 Meat. Pork in carcasses and half carcasses. Specifications. Kyiv: State Committee for Technical Regulation and Consumer Policy.
21. USSR State Committee for Standards, 1986. GOST 23042-86 Meat and meat products. Methods for determining fat. Moscow: USSR State Committee for Standards.
22. Nemchenko, V.V., 2012. Prodovolcha bezpeka Ukrainy [Food security of Ukraine]. Zbirnyk naukovykh prats VNAU, vol. 2, issue 4, p. 70.
23. Polivoda, A.M., Strobykina, R.V. and Ljubeckij M.D., 1977. Metodika ocenki kachestva produktov uboja u svinej [Methodology for assessing the quality of slaughter products in pigs]. Metodiki issledovanij po svinovodstvu. Har'kov, pp. 48–56.
24. Pohodnja, G.S., Kornienko, P.P., Malahova, T.A,. Kreneva, T.V. and Mamenko A.M., 2017. Jeffektivnost' vyrashhivanija porosjat pri razlichnyh srokah ih otjoma [The effectiveness of growing pigs at different periods of weaning]. Problemi zooіnzhenerії ta veterinarnoї medicini. issue 33(1), pp. 129–134.
25. Strel'cov, V.A. and Lavrov, V.V., 2016. Estestvennaja rezistentnost' u porosjat pri razlichnyh srokah otema [Natural resistance in piglets at different weaning periods]. Mat. mizhd studen nauk. prakt. konferencii, Brjanskogo GAU, Kokino, pp. 280–283.
26. Tvorogova, E.V., 2013. Jekonomicheskie predposylki vnedrenija tehnologii sverhrannego otjema porosjat [Economic prerequisites for introducing technology of early weaning piglets.]. Vestnik Chuvashskogo gosudarstvennogo pedagogicheskogo universiteta im. I. Ja. Jakovleva. issue 2 (78), pp. 159–162.
27. Hristofor, L.H., 2006. The influence of the weaning period of piglets on the productivity and reproductive quality of sows in the conditions of Yakutia. Abstract of Ph.D. dissertation. Jakut. gos. s.-h. akad. p. 19.
28. Campbell, J.M., Crenshaw, J.D. and Polo, J., 2013. The biological stress of early weaned piglets . Journal of animal science and biotechnology, vol. 4, issue 1, p. 19.
29. Colson, V., 2012. Influence of housing and social changes on growth, behaviour and cortisol in piglets at weaning. Physiology & behavior, vol. 107, issue 1, pp. 59–64.
30. Colson, V., Orgeur, P., Foury, A. and Mormède, P., 2005. Consequences of weaning piglets at 21 and 28 days on growth, behaviour and hormonal responses. Applied Animal Behaviour Science, issue 98, pp. 70–88.
31. Jarvis, S., 2008. Effects of weaning age on the behavioural and neuroendocrine development of piglets. Applied Animal Behaviour Science, vol. 110, issue 1-2, pp. 166–181.
32. Leibbrandt, V.D., Ewan, J. R.C. and Zimmerman D.R., 1975 Effect of weaning and age at weaning on baby pig performance. Animal Science, issue 40, pp. 1077–1080.
33. Marin, D., 2012. Nursing management and its impact on weaned piglet weight. Porcine Research, vol. 2, issue 1, pp. 23–26.
34. Peet, B., 2003. Is it time to re-assess your weaning age? Western Hog Journal. Sheffield: Benchmark House, Available at: URL:http//www.thepigsite.com/articles/807/is-it-timeto-reassess-your-weaning-age [Accessed 8 February 2020].
35. Turpin, D.L., Langendijk, P., Chen, T.Y. and Pluske J.R., 2016. Intermittent Suckling in Combination with an Older Weaning Age Improves Growth, Feed Intake and Aspects of Gastrointestinal Tract Carbohydrate Absorption in Pigs after Weaning. Animals (Basel), issue. 6(11), p. 6. doi:10.3390/ani6110066.
36. Whiting, T. and Pasma, T., 2008. Isolated weaning technology: humane benefits and concerns in the production of pork. The Canadian veterinary journal, issue 49, pp. 293–301.
37. Worobec, E. and Duncan, E., 1997. Early weaning in swine: A behavioral review. Compendium on Continuing Education for the Practicing Veterinarian, issue 19, pp. 271–277.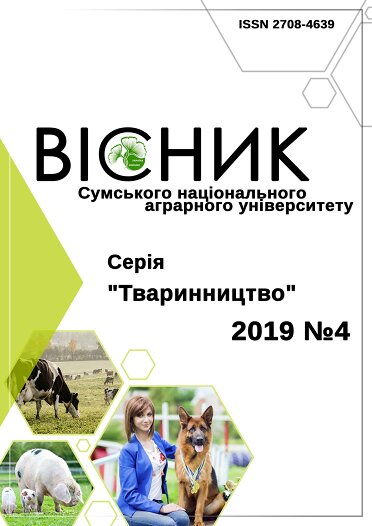 How to Cite
Povod, M., Shvachka, R., Mykhalko, O., & Yurieva, K. (2019). Productive qualities of sows and their posterity depending on the duration of the suspension period. Bulletin of Sumy National Agrarian University. The Series: Livestock, (4(39), 72-84. https://doi.org/10.32845/bsnau.lvst.2019.4.11