Structural and morphological changes of endometrium related to ovary cycle and condition of genital function of cows
Keywords:
cows, structural and morphological endometrium changes, postmorbid endometrium.
Abstract
The article analyses structural and morphological changes of endometrium related to ovary cycle and condition of genital function of cows. It has been determined that during estrus, we find high functional activity, activation of physiological secretion processes, intensification of protein lipid metabolism. Endometrium of proesrtrus shows activation of regenerative processes accompanied with development of connective endometrium matrix. Such condition characterized by accumulation glycosaminglycans and increase the reactive activity of acid proteinglycans of deep phase of fibrous matrix proteins.
Endometrium of cows during metestrus is charachterized by simultaneous dystrophic degenerative changes caused by hormone-dependent cell desquamation, and cell proliferation initiation.
In postmorbid condition endometrium shows differentiation of stroma cells, vessel territories and uterine glands, reduction of proliferation processes, depression of regenerative ability and neoangenogenesis.
References
1. Boltovskaya, M.N. (2002). Rol' ehndometrial'nyh belkov i kletok – producentov v reprodukcii cheloveka. [The role of endometrial proteins and producing cells in human reproduction] Moskva, avtoreferat dissertacii na soiskanie uchenoj stepeni doktora biologicheskih nauk, 49 s. [іn Russian].
2. Bhutani? K.K. (2004). Effect of Symplocos racemosa Roxb. on gonadotropin release in immature female rats and ovarian histology. Journal of Ethnopharmacology, 94(1), 197–200. [in English].
3. Brsikyan SG, 1990. Morfo-funkcional'nye izmeneniya v organah razmnozheniya u korov pri subinvolyucii matki i poslerodovom ehndometrite. [Морфо-функциональные изменения в органах размножения у коров при субинволюции матки и послеродовом эндометрите] Moskva, avtoreferat dissertacii na soiskanie uchenoj stepeni kandidata veterinarnyh nauk, 16 s. [іn Russian].
4. Demidova EM, Rashidov TN, 2006. Znachenie lokal'nyh kletochnyh vzaimodejstvij v ehndometrii v processe nevynashivaniya beremennosti. [The importance of local cellular interactions during pregnancy miscarriage] Rossijskij vestnik akushera-ginekologa 4, 12-16. [іn Russian].
5. Goral's'kij LP, Homich VT, Konons'kij OІ, 2011. Osnovi gіstologіchnoї tekhnіki і morfofunkcіonal'nі metodi doslіdzhen' u normі ta pri patologії [Fundamentals of histological technique and morphofunctional methods of research in normal and pathology]. ZHitomir, Polіssya, 288 s. [in Ukrainian].
6. Gunin AG, Sharov AA, (1998). Role of mast cells in oestradiol effects in the uterus of ovariectomized rats. Journal of Reproduction and Fertility 113, 1, 61-68. [in English].
7. Ilyina O, Zadorozhna Т, Ilyin I, 2006. The endometrial pinopodes investigation in women with unexplained infertility. Virchows Archiv, 447, 2, 739. [in English].
8. Korneeva IE, SHurshalina AV, Feosistov AA, (2005). Drugie patologicheskie izmeneniya matki i ehndometriya, kak prichina besplodiya. [Other pathological changes of the uterus and endometrium as a cause of infertility] Besplodnyj brak. Sovremennye podhody k diagnostike i lecheniyu. Moskva, GEHOTAR– Media, S. 616. [іn Russian].
9. Kostishin, Є.Є. (1999). Osoblivostі morfologіchnoї strukturi і trofіchnoї funkcії placenti korіv ta rozvitku ploda. [Features of morphological structure and trophic function of cow placenta and fetal development] L'vіv, avtoreferat disertacії na zdobuttya naukovogo stupenya kandidata veterinarnih nauk, 19 s. [in Ukrainian].
10. Leung, S.T. (2004). The effects of lipolysaecharide and interleukinsllalpha, 2 and-6 on oxytocin receptor expression and prostaglandin production in bovine endometrium. Journal of Endocrinology 44, 524. [in English].
11. Misajlov VD, Sulejmanov SM, Kochura MN, 2006. Gistomorfologicheskaya harakteristika matki korov v norme i pri podostroj subinvolyucii. [Histomorphological characteristics of cow uterus normal and subacute subacute] Aktual'nye problemy veterinarnoj patologii i morfologii zhivotnyh: Materialy mezhdunarodnoj nauchno-proizv. konferencii, posvyashchennoj 100-letiyu so dnya rozhdeniya prof. A.A. Avrorova, Voronezh, S. 168. [іn Russian].
12. Nikitina, LA, Sadekova, ON, Rashidov, TN, Voloschuk, IN, Bochkov, VN, Demidova, EM, Samokhodskaya, LM, & Tkachuk, VA. (2007). Reccurent early pregnancy loss endometrium is accompanied by decreased VEGF and increased PlFG gene expression. Abstract Book of 3d EMBIC Summer School., Jena, Germany. 6, 9-17. [in English].
13. Ozturk, S. & Demir, R. (2010). Particular functions of estrogen and progesterone in establishment of uterine receptivity and embryo implantation. Histology and Histopathology, 25, 9, 1215–1228. [in English].
14. Petitti DB, 2003. Combination estrogen-progestin oral contraceptives. Med. Clinical practice 349, 1443. [in English].
15. Radzinskij VE, Sadekova ON, Voznyuk DA, Samohodskaya LM, Tkachuk VA, Rashidov TN, Demidova EM, Nikitina LA, 2010. Transkripcionnye i morfologicheskie osobennosti predimplantacionnogo ehndometriya u zhenshchin s privychnym nevynashivaniem beremennosti. [Transcriptional and morphological features of preimplantation endometrium in women with habitual pregnancy miscarriage]. Vestnik Rossijskogo universiteta druzhby narodov 6, 9-17. [іn Russian].
16. Saєnko NV, 2001. Morfofunkcіonal'nі osoblivostі fetal'noї chastini placenti pri rіznomu stupenі prenatal'nogo rozvitku telyat.[ Morphofunctional features of fetal part of the placenta at different degree of prenatal development of calves]. Kiїv, avtoreferat disertacії na zdobuttya naukovogo stupenya kandidata veterinarnih nauk, 20 s. [in Ukrainian].
17. Selivanov EV, 2003. Krasiteli v biologii i medicine. [Dyes in biology and medicine]. Barnaul, Azbuka, 40 s. [іn Russian].
18. Sidel'nikova VM, 2002. Privychnaya poterya beremennosti. [The usual loss of pregnancy] Moskva, Triada-H, 304 s. [іn Russian].
19. Tomitova EA, 2011. Morfofunkcional'noe sostoyanie polovyh organov yachih pri razlichnyh fiziologicheskih sostoyaniyah. [Morphofunctional state of the genitalia of cells in various physiological states]. Materialy nauchno-prakticheskoj konferencii «Aktual'nye problemy veterinarnoj nauki i praktiki Sibiri, posvyashchennoj 85-letiyu Respublikanskogo gosudarstvennogo upravleniya veterinarii Buryatskoj respublikanskoj nauchno-proizvodstvennoj veterinarnoj laboratorii, Ulan-Udeh, S. 119-124. [іn Russian].
20. Vlasov, SA. (2000). Fetoplacentarnaya nedostatochnost' u korov. [Fetoplacental insufficiency in cows]. Voronezh, Voronezhskij gosudarstvennyj agrarnyj universitet, 221 s. [іn Russian].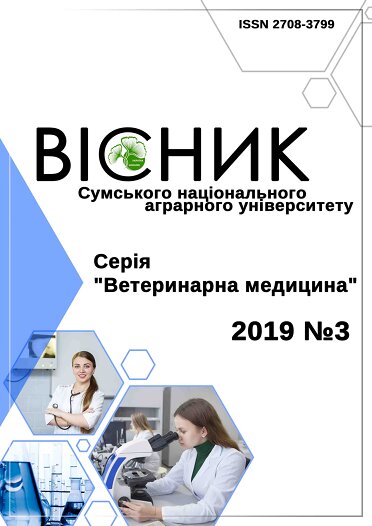 How to Cite
Bondarenko, I., Lazorenko, A., & Krajewsky, A. (2019). Structural and morphological changes of endometrium related to ovary cycle and condition of genital function of cows. Bulletin of Sumy National Agrarian University. The Series: Veterinary Medicine, (3 (46), 9-22. https://doi.org/10.32845/bsnau.vet.2019.3.2
This work is licensed under a Creative Commons Attribution 4.0 International License.