Improvement of milk quality for micro-climate formation on cattle farms
Keywords:
ventilation, microflora, livestock premises, hygienic parameters, milk quality.
Abstract
In this work, microclimate studies were conducted in cattle rooms and the impact on milk quality. A comparative analysis of the use of natural and forced ventilation in rooms and the formation of microclimate. The normative values of sanitary and hygienic parameters for livestock farms are presented in the paper. The microorganisms isolated from the change of cows and milk are identical to the microflora circulating indoors. Weaknesses in the design of livestock premises were also investigated. Disturbances in building structures affect the welfare of animals. It has been proven that the use of state-of-the-art forced-air ventilation systems on livestock farms reduces indoor moisture and gas levels.
Diseases and deaths of animals can be caused by violations of sanitary and hygiene standards and feeding and watering of animals. Failure to comply with the disinfection rules increases the microbial contamination of the air.
Lack of adequate ventilation in the premises causes the accumulation of dangerous gases (ammonia and hydrogen sulfide), moisture and micro-organisms in buildings. All these factors can cause respiratory, digestive and mastitis diseases in cows. In sick animals, the increase in live weight and milk productivity is reduced. Treatment of animals is very expensive because antibiotics are used. Antimicrobial drugs affect the quality of products. Prevention of morbidity in farms is directly related to compliance with zoo-hygiene standards.
In livestock houses, animals spend most of their lives. The premises protect animals from adverse weather conditions. An important indicator of hygiene requirements for the building is the microclimate. The microclimate includes: ventilation, temperature, gas, light and microbial contamination. All indicators must be in accordance with normal animal-friendly levels.
Farms under the Animal Protection Act are required to provide them with proper care and appropriate living conditions. The microclimate of the room is formed by many physical factors. Animals overcrowding have negative effects on indoor pollution. Poor ventilation affects the health and weight gain of animals. Accumulation of gases, moisture and microorganisms indoors can cause respiratory and digestive diseases in animals.
Within 60% were pathogenic staphylococci (S. aureus) as a result of monitoring the etiology of subclinical mastitis. Has made agalactic streptococcus (Str. Agalactiae) 25% of cases. Associated microflora accounted for 5% of cases.
References
1. Karelin A. I. (2000). Zoogigienicheskie osnovi proektirovaniya, stroitel'stva i zkspiuatatsii zhivotnovodcheskikh ob'ektov. [Principles of hygienic design, construction and sexploitative livestock facilities]. : Rossel'khozizdat Moscow, Rosselkhozizdat,. 370 р.
2. About protected animals from ill-treatment by the Verkhovna Rada of Ukraine. Pro zakhyst tvaryn vid zhorstokoho povodzhennia Vidomosti Verkhovnoi Rady Ukrainy, 2006, № 27, ст.230 [in Ukrainian]
3. Chornyy M. V. (2003). Hihiyena tvaryn. Praktykum [Hygiene of animals. Workshop], Kharkov "Espada", 216.
4. Brunner N., Groeger S., Raposo J. C., Bruckmaier M. R., Gross J. J. (2019). Prevalence of subclinical ketosis and production diseases in dairy cows in Central and South America, Africa, Asia, Australia, New Zealand, and Eastern Europe. Transla-tional Animal Science. 3 (1). P. 102. https://doi.org/10.1093/tas/txy102
5. Demchuk M. V., Chornyy M. V., and Zakharenko M. O. (2006). Hihiyena tvaryn. – [ Hygiene of animals]. Kharkov "Espada", 516.
6. Gates J.K, Huber K., Finch A., Pedersen A.J. (1991). Thermal Comfort in Animal Breading Systems Trans. ASAE, Vol 36 (2). p.2731-2740
7. Paliy A. P., Nanka O. V., Lutcenko M. M., Naumenko O. A., Paliy A. P. (2018). Influence of dust content in milking rooms on operation modes of milking machine pulsators Ukrainian Journal of Ecology. 8 (3). P. 66–70.
8. Petrov P., Zhukova Y., Demikhov Y. (2016). The Effects of Dairy Management on Milk Quality Characteristics. Turkish Journal of Agriculture – Food Science and Technology. 4 (9). P. 782–786.
9. Arimod M., Hawkes C., Ruel M. T., Sifri Z., Berti P. R., Leroy J. L., Low J. W., Brown L. R., & Frongillo E. A. (2011). Agricultural interventions and nutrition: Lessons from the past and new evidence. In: Thompson, B. Amoroso, L. (eds). Combating micronutrient deficiencies: Food-based approaches. Oxfordshire (UK). CAB International FAO, 41–75. ISBN 978-1-84593-714-0.
10. Sklyar O. I., Shkromada O. I., Geroun I. V. & Parashchenko V. V. (2017). Sanitary and hygienic assessment of quality and safety of cows milk obtained according to the latest technologies. Visnyk of Sumy NAU, 11 (41), 74–77.
11. Szyda J., Mielczarek M., Frąszczak M., Minozzi G., Williams J. L., Wojdak-Maksymiec K. (2019). The genetic background of clinical mastitis in Holstein-Friesian cattle. Animal.. 5. P. 1–8. doi: 10.1017/S1751731119000338
12. Hussain R., Javed M. T., Khan A. (2012). Changes in some biochemical parameters and somatic cell counts in the milk of buffalo and cattle suffering from mastitis. Pakistan Veterinary Journal. 32. P. 418–421.
13. Sklyar O. I. (2014). Diagnosis of subclinical mastitis of cows. Visnyk of Sumy NAU, 6 (35): Veterinary Medicine, 183–186.
14. Palii A. P., Palii A. P. (2019). Tekhniko-tekhnolohichni innovatsii u molochnomu skotarstvi : monohrafiia. [Technological and technological innovations in dairy cattle: monograph.] Kharkiv: Miskdruk, 324 s. ISBN 978-617-619-207-7
15. Bhulto A. L., Murry R. D., Woldehiwet Z. (2012). California Mastitis Test scores as indicators of subclinical intramammary infections at the end of lactation in dairy cows. Res Vet Sci. 92. P. 13–17.
16. Olde Riekerink R. G., Barkema H. W., Scholl D. T., Poole D. E., & Kelton D. F. (2010). Management practices associated with the bulk-milk prevalence of Staphylococcus aureus in Canadian dairy farms. Vet Med., 97 (1), 20–80. doi: 10.1016/j.prevetmed.2010.07.002.
17. Brunner N., Groeger S., Raposo J. C., Bruckmaier M. R., & Gross, J. J. (2019). Prevalence of subclinical ketosis and production diseases in dairy cows in Central and South America, Africa, Asia, Australia, New Zealand, and Eastern Europe. Translational Animal Science, 3 (1), 102. https://doi.org/10.1093/tas/txy102
18. Nanka O., Shigimaga V., Paliy A., Sementsov V., Paliy A. (2018). Development of the system to control milk acidity in the milk pipeline of a milking robot. Eastern-European Journal of Enterprise technologies. 3/9 (93), 27–33. doi: https://doi.org/10.15587/1729-4061.2018.133159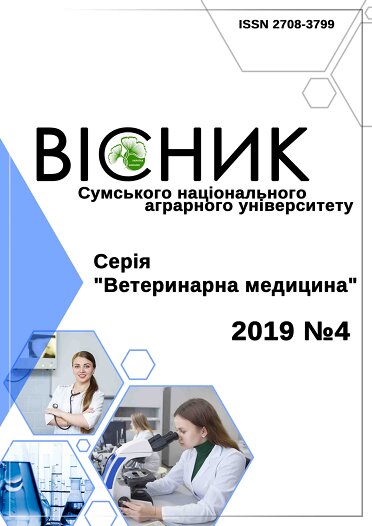 How to Cite
Shkromada, O., Palii, A., Palii, A., Skliar, O., Dudchenko, Y., & Necherya, T. (2019). Improvement of milk quality for micro-climate formation on cattle farms. Bulletin of Sumy National Agrarian University. The Series: Veterinary Medicine, (4 (47), 43-49. https://doi.org/10.32845/bsnau.vet.2019.4.7
This work is licensed under a Creative Commons Attribution 4.0 International License.